What is a Direct Debit Bulk Change?
If you operate a Direct Debit Scheme you may face a time when you need to make a bulk change to the information that is held against your payers Direct Debit Instructions (DDIs). There are many reasons why you may need to make changes – some examples are below:
you have changed your organisations name e.g. due to rebranding
the organisations legal status has changed, e.g.

from a limited partnership to a limited company
your organisation has acquired or merged with another organisation

implementation of new software and a need to change the references that you use for your customers
change of Service User Number that you collect under e.g.

to reduce the number of Service User Numbers that you operate and consolidate DDIs under one SUN
if you make use of Facilities Management Services and are a client transferring from one provider to another
Your organisation has acquired another organisation and wish to transfer their Direct Debits to be collected under your SUN.
All of these examples would require you to make amendments to all/lots of the DDIs that you have set up on Payers accounts.
How do you make Bulk Changes?
Where 'bulk changes / amendments' are required to DDI's already set-up, there are 2 ways to do this:
a new DDI being signed by the payer and lodged with the paying PSP. You could ask every Payer to sign a new DDI with the changed details and then lodge this with each Paying Payment Service Provider (PSP/ bank)
you can use the Bulk Change Process to update all the DDIs using AUDDIS – the Automated Direct Debit Instruction Service. Note: this process must be approved in advance by your sponsoring bank and you should be aware of the requirements placed upon you that are detailed in The Bulk Change Guide (v. 4.5).
What is involved in the Bulk Change Process?
There are a number of steps involved in a Bulk Change process. The speed at which an organisation moves through these will depend upon various factors, including:
type of change being undertaken
whether this also involves an AUDDIS migration
if there is also a change of legal entity
the organisations knowledge and resources
volume and collection patterns of existing Direct Debits.
The exact process is dependent on the type of bulk change. A top-line overview of the processis below: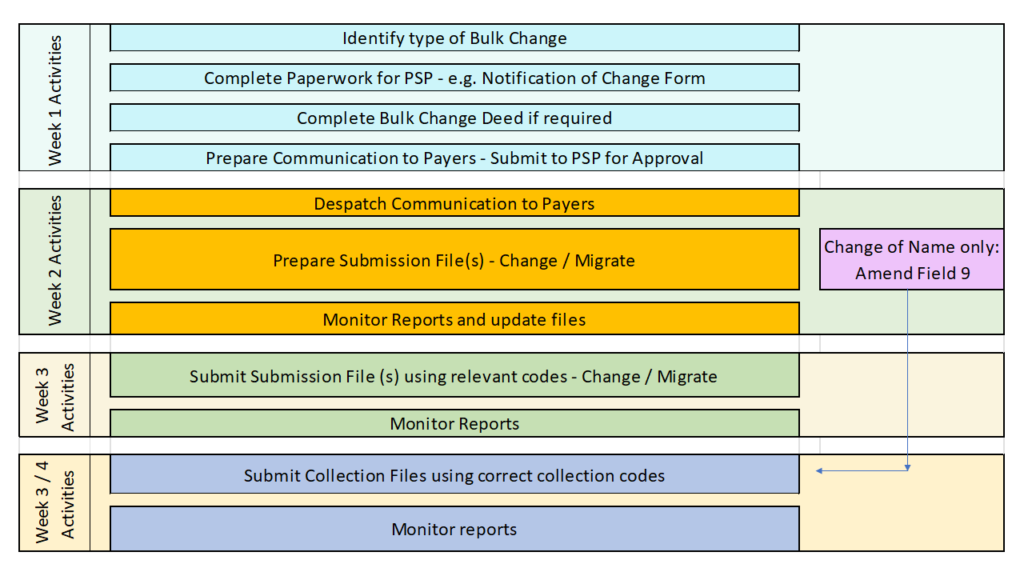 Steps involved include:
1. Successful Planning
It's not always straightforward to work out what type of Bulk Change you need to undertake. When planning the project you may wish to consider:
Big bang vs phased approach. Will you make the amendment on one date (e.g. for a change of name) or across a phased timetable (useful if you collect Direct debits everyday and don't want any impact upon your collections)
Do you need to include an AUDDIS migration? (Non-AUDDIS Service Users can only use the Bulk Change Process to undertake a change of name unless they also undertake an AUDDIS migration for example). If you have a Non-AUDDIS SUN it could be a good time to combine changes.
Will there be a 'partial' or 'full' change of DDIs under a specific Service User Number?
Timing.

There are suggested minimum implementation times, e.g. 3 weeks, (longer if a new SUN is required). There is no definitive timescale however. Every project is likely to be different and due time should be planned to allow for issues.
Consideration will need to be given to when you should make the change so it doesn't affect your collections. The first available payment date after a change should be a minimum of 5 working days from any '0N' submission to Bacs. It is recommended however to allow 8 working days before first collection – to deal with possible returns

All parties involved need to be in agreement with the timeline:

If there is a change of sponsorship, the old and new sponsoring PSP will need to liaise.
Where the legal entity changes, both entities must agree.
2. Preparing Bulk Change Documentation and Submitting for Approval
Depending on the change required you will need to complete:
Notification of Change Form. This is always required and details the type of changes. Your sponsoring bank will use this form to update the industry about the changes being made.
Bulk Change Deed. This is required if there is a change of legal entity. There are different signing blocks depending on the legal status of the entity.
You may also need to provide supporting documentation. If you are undertaking a change of name for example, within the same legal entity you will need to provide a Certificate of Incorporation on Change of Name.
3. Advising Payers
Your Payers need to be advised of changes and there are specimen /template letters available to help with this. These will need to be approved in advance by your sponsoring PSP.
Change(s) can be communicated to the payer by the method previously agreed e.g. post or email and should be sent sufficiently early. They should include the Direct Debit Guarantee and will need to include relevant information e.g:
What the change is and how it affects the payer. (You need to advise their new reference or the new name / legal entity of the collecting organisation),
why the change is needed,
advice that the next collection could show as the first payment on their statement – eg if change of reference.
If the change results in any amendment to the amount or date of collection then new advance notice must be issued
4. Preparation and Submission of Bulk Change File
When preparing the file of information that will need to be submitted to make the change, it is important to ensure that data is as 'clean' as possible. Bulk Changes should only include live / active or recently expired DDIs so its important your dataset reflects this. It's a good time to ensure sortcodes and account names are accurate and up to date.
Preparing software is important to ensure that it can generate the required codes for the Bulk Change or AUDDIS migration file.
Where you are undertaking an AUDDIS migration as part of the bulk change, you need to ensure that you can complete the migration within 10 days. If you are undertaking a reference change and you think you cannot complete the migration within 10 days, consider migrating with the old reference and then undertaking the bulk change as the second of a 2 step process.
It's vital to liaise with your sponsoring PSP and to submit files on the date as planned. If you need to submit 0C's and 0Ns on the same day its vital to follow the steps in order to avoid having multiple DDIs set up on an account or incorrectly cancelling DDIs you wish to keep live. If you are submitting 0S migration codes then these should be sent in time for the agreed processing date.
Note: If you are undertaking a Change of name only, you will not need to submit a Change file. You can use the Notification of Change form and advise payers. You will need to amend details in your submission files however.
5. Direct Debit Collections and Monitoring
Remember that the first Direct Debit collection file following the bulk change may need to use different collection codes. For some Bulk Changes (where you have submitted a 0N) a 01 may be required. For others – if they include an AUDDIS migration for example – a collection code of 17 may be needed. Where references change, it is possible to still received ADDACS reports using the old references and you will need to be prepared for this.
Bulk Change Considerations
When undertaking a bulk change there are various issues to consider. There are too many to detail here, but as an example, here are some to consider where there is a change of Service User:
Liability Shift. The 'new' Service User will be responsible for all Indemnity Claims, from the date of transfer. This covers all past, present, and future claims. If a claim is raised with the 'old' Service User in error – they can use the challenge process (or have a separate agreement with the new SU to settle). Its best to arrange the process in advance.
Access to original authorities and amendments. The 'new' service user should make arrangements to have access to / copies of the original DDI (in case they are needed for Indemnity Claims). In addition, there should be a way for the 'old' service user to pass on ADDACS advices.
Agreement when there is a 'Partial' change. It is strongly recommended that when involved in a partial change, a definitive listing of DDIs should be passed by the 'old' service user to the 'new' service user to facilitate resolution of any subsequent dispute.
'New' Advance Notice. If the change results in any amendment to the amount or date of collection then new advance notice must also be given / issued.
Need help or want to discuss further?
For most organisations, a Bulk Change is a technical and complicated task. We can help! These projects can be tricky and we have years of experience helping organisations successfully undertake Bulk Changes. Depending on your needs, we can provide everything from advice, to training workshops to full project management. Get in touch if you are considering changes and let us help you to get it right first time!